New Features in v7.0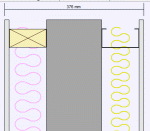 TRIPLE PANEL CONSTRUCTIONS
The major improvement in Version 7 is the ability to model triple panel constructions. Previously constructions have been limited to panels on either side of an air-gap(Double panel construction). But there are many common constructions which include two air-gaps. For instance, it is common to have a masonry wall with plasterboard fixed to battens on each side. Such constructions can have excellent high frequency sound insulation, but with a pronounced dip in transmission loss at lower frequencies. INSUL 7.0 can model triple panel constructions consisting of several layers, with a range of connections between panels, and with and without sound absorptive material in the air cavity. It should be noted that the accuracy of triple panel predictions is less than for single and double panel constructions. See examples of prediction accuracy. click here to enlarge image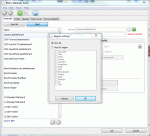 MATERIALS EDITOR
INSUL 7.0 introduces a powerful new materials editor. There are a number of databases in INSUL that hold information on solid materials, porous materials, floor coverings and steel profiles, the materials editor can be used to add to or modify these databases. The standard databases installed now contain all the materials available, for all Countries. The user can filter the data to show just the materials appropriate to their region (or country), or include materials from other regions. For instance you can see the Spanish or German nmterials database. In addition, the user can add materials to the user's personal databases. By default, the user cannot edit thestandard INSUL databases, but can make any changes to the user's personal database. Updates of INSUL may overwrite the INSUL database but will not overwrite the user's databases. click here to enlarge image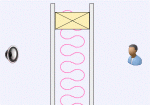 AURALISATION (Vista and Windows 7 Only)
The user can now listen to the predicted sound reduction. Using, for instance, headphones plugged into the computer sound output, the user can click on a simulation of sound on the source side of the wall, then on the receiver side of the wall. This provides a very interesting tool for users to be able to listen to the effect of different walls. However, the user should be careful that the accuracy of the simulation will depend on the frequency response of the reproduction system and the background noise level. So demonstrating differences in low frequency performance with headphones may be quite ineffective. Likewise, trying to listen to the effect of very high performance walls may be impossible if the background noise is not very low. .
FREEFIELD INCIDENCE (Single Panels)
Almost all sound reduction testing and calculations are undertaken with diffuse sound fields on both sides of the wall. For diffuse fields, sound is incident on the wall at all possible angles of incidence. However, there are many instances in real life where sound arrives at the panel at a single angle of incidence and the transmission loss is somewhat different to the diffuse field case. INSUL can predict the performance of single panels (not double or triple panels) at a single angle of incidence. This is most significant at high frequencies around the coincidence or critical frequency
MISCELLANEOUS IMPROVEMENTS
Version 7 allows the user to select the approximate surrounding construction and indicate the likely magnitude of flanking transmission.
Materials can be hatched or cross hatched for better representation of materials
More frame types available (including butterfly ties)
Compatible with Windows 7 (including 32 and 64 bit)
PRICES
Please contact your distributor for prices for upgrades from your existing version. Note that users who have purchased a new full licence after 1 March 2012 will generally be entitiled to a free upgrade to v7.0. Users who have purchased an upgrade to v6.4 after 1 June 2012 will generally be entitled to a free upgrade to v7.0.
IMPROVEMENTS IN VERSION 6.4
Many new features were added to V6.4 (see new features in v6.4)
Upgrading prices can be obtained from your Distributor